International Conference in Naples (October 3-4, 2019)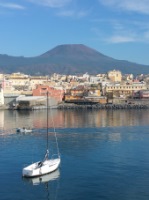 Corresponding sections:
Organisers and sponsors
With over 700 years of history, 112,000 students, 4000 teachers and 2000 employees, technicians and librarians, Sapienza University of Rome is the first university in Europe. Core mission is to contribute to the development of a knowledge society through research, excellence, quality education and international cooperation. Sapienza currently offers over 270 degree programmes (Bachelor's and Master's) – among which over 30 are taught in English- over 200 vocational master courses and almost 80 PhDs. Scientific research activity at Sapienza covers an extremely broad spectrum of disciplines, reaching levels of excellence in many areas, including archaeology, physics and astrophysics, humanities and cultural heritage, the environment, nanotechnologies, cell and gene therapy, design, aerospace, social and economic sciences. Nobel Prize winners and internationally renowned scientists have taught and/or studied at Sapienza. Sapienza is organized into 11 faculties, one School for Advanced Studie, one post-degree School for Aerospacial Engineering, 59 departments, as well as numerous research and service centres. Sapienza University of Rome website.
The University of Naples "Parthenope" was established in 1919. In 1999, the two long-standing Faculties of Economics and Nautical Science (later called Science and Technology) were aggregated to three newly established Faculties, namely Law, Engineering and Sports Science, which jointly led the Institute to a significant growth in the number of students ranging from about 1,000 in 1985 to about 16,000 currently. This is how the Institute officially became the University of Naples Parthenope. From July 2013, a new set of degree programmes was introduced, based on the creation of Departments, which develop both research and teaching activities. Among the University's core aims, it is worth mentioning the promotion, development, direct application, enhancement and use of knowledge to contribute to the social, cultural and economic development of society. The University of Naples "Parthenope" webpage.
The publishing house "Virtus Interpress" offers the expertise and global perspectives in corporate governance. "Virtus Interpress" publishes six journals in corporate governance and regulation, book series, acts as co-organizer of international conferences and seminars. Virtus Interpress webpage.
Virtus Global Center for Corporate Governance was established by Virtus Interpress in 2014. It is aimed to unite thousands of experts who have expertise in general corporate governance. Therefore to unite the network around the idea to conduct research in general corporate governance, not just in corporate governance and regulation in banks and financial institutions the new center was established. Virtus GCCG webpage.
Morrow Sodali provides corporate boards and executives with strategic advice and services relating to a broad range of activities, including: mergers and acquisitions, annual and special meetings, shareholder activist initiatives, multinational cross-border equity transactions and debt restructuring services. From headquarters in New York and London, and offices and partners in major capital markets, Morrow Sodali serves more than 700 corporate clients in 40 countries, including many of the world's largest multinational corporations. In addition to listed and private companies, its clients include mutual funds, ETFs, stock exchanges and membership associations. Morrow Sodali web page.
Organising committee:
Professor Salvatore Esposito De Falco, Conference co-chair
Professor Federico Alvino, Conference co-chair
Professor Alexander Kostyuk, Conference co-chair
Professor Nicola Cucari
Professor Luigi Lepore
Professor Assunta Di Vaio
Professor Sabrina Pisano
Professor Loris Landriani
Professor Marco Sorrentino
Professor Eduardo Esposito
Professor Mario Calabrese
Dr. Rosa Palladino
Dr. Alfredo Celentano
Dr. Francesco Mirone
Dr. Carmela Di Guida
Dr. Gabriella D'Amore
Ms. Anna Mallamaci (Sapienza University of Rome)
Ms. Luana Gallotta (Sapienza University of Rome)
Ms. Kate Huryna
Ms. Polina Bahmetenko