International Conference in Leipzig, November 10, 2016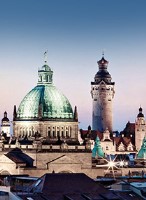 Corresponding sections:
Key-note speakers

Dr. Matthias Holzamer, Roland Berger, Germany.
Matthias Holzamer is a Partner in the Restructuring and Corporate Finance Competence Center in Frankfurt.
He focuses on restructuring, corporate finance, capital markets and private equity, advising clients on portfolio strategy, capital structure optimization, value-based management, performance improvement and risk management. In a second role, Matthias Holzamer works from Roland Berger's Vienna office and supports Austrian banks, leasing firms and credit insurers facing national and international restructuring situations in Central and Eastern Europe.
He studied international business administration in Munich, London and Paris and earned a Ph.D. from the Institute for Capital Markets and Corporate Finance at LMU Munich (Germany).
Dr. Kristin Köhler, Center for Corporate Reporting, Switzerland.
Dr Kristin Köhler is chief executive officer of the Center for Corporate Reporting in Zürich, Switzerland.
The Center for Corporate Reporting (CCR) is the independent center of excellence for corporate reporting in Germany, Austria and Switzerland. The CCR's activities include the annual Symposium, topic-specific events, the trade publication The Reporting Times, the Annual Report Library and exclusive services for corporate members. Their objective is to foster the quality of reporting and heighten its effectiveness – not only for the companies reporting but also for their stakeholders.