Uber's Dara Khosrowshahi thinks he has controlled his famously fractious board of directors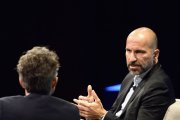 A little more than a year after Uber's board of directors busted into acrimony, CEO Dara Khosrowshahi is feeling pretty good about how things are going in the boardroom.
That's important since it has been one of the $70 billion company's highest priorities headed into an initial public offering next year. No one wants to back a public company that is in the middle of a gunfight.
"Where we came from last year was not neccessarily a board but an investor group that was struggling for control of the company," he said onstage at Vanity Fair's New Establishment summit in Los Angeles on Tuesday.
The company's board was "fundamentally misaligned." But now, he pledges, "those days are behind us."
One of Khosrowshahi's first accomplishments was a grand-bargain deal that restructured the company's governance and disempowered some early power players like former CEO Travis Kalanick and Benchmark (who were in the middle of a lawsuit). Khosrowshahi on Tuesday was visibly amused by repeated questions about Kalanick's lingering influence — including one about whether he is concerned that Kalanick could try and engineer a comeback to the CEO seat after next year's IPO.
Full article is available following the link. Original source: Theodore Schleifer, The Recode.
Scholarly insight on board of directors following the link. All the papers are free for downloading and sharing.