Corporate Governance Conference in Rome: A Photo Report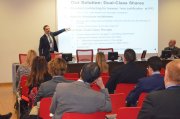 On the 28th of February 2019 the International conference "CORPORATE GOVERNANCE: SEARCH FOR THE ADVANCED PRACTICES" successfully took place at Roma Tre University in Rome (Italy) with the organizational participation of Department of Business Studies by Prof. Marco Tutino, Prof. Giorgia Mattei, SIDREA (Italian Society of Professors of Accounting and Business Administration) and Virtus Global Center for Corporate Governance.
Participants from different parts of the world (Canada, the UK, Italy, Spain, Germany, Greece, Japan, South Korea, Hungary, Finland, Portugal, Ireland, France etc.) were gathered at the conference venue to discuss relevant issues of crucial issues of corporate governance, i.e. earnings management, corporate control, risk governance and blockchain, audit, financial reporting, disclosure and transparency issues, shareholder rights, executive compensation, etc.
Keynote speeches were delivered by Alessio Maria Pacces, Professor of University of Amsterdam (the Netherlands) and Vincenzo Capizzi, Professor of University of Piemonte Orientale (Italy). Afterwards the conference was divided into five parallel sessions and finally was Round Table "PERSPECTIVES OF CORPORATE GOVERNANCE: ADVANCED PRACTICES ON "ACCOUNTING AND FINANCE" APPROACH".
Organisers would like to express gratitude to all of the participants who came to the conference to share their ideas, experience, and research. In our digitalized world face-to-face communication becomes a rare opportunity to come up with cumulative solutions and generating new knowledge for future development and enhancement.
Photos from the conference are available here.
Feedback from the conference is available here.
The conference report will follow and separate news will be published.