Companies targeted over gender balance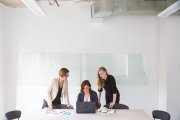 One of Britain's biggest share owners has stepped up the pressure on UK boardrooms when it comes to pay, diversity and sustainability.
Legal and General Investment Management - which manages nearly £1 trillion worth of assets - voted against 215 UK pay deals in 2017, a 40% increase over the previous year.
It has promised to vote against the reappointment of chairs of the UK's 350 biggest public companies if women don't make up at least 25% of the board.
Legal and General's report comes ahead of the annual general meeting season when company shareholders have a chance to voice concern over the way companies are run.
More on the topic following the link. Original source: BBC; Simon Jack.
Scholarly insight on corporate sustainability and gender diversity.