Chinese tech giants, government under fire for 'men only' job ads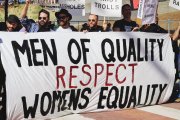 BEIJING (Reuters) - Top Chinese tech firms and some government departments have been singled out in a report that says discriminatory hiring practices based on gender are widespread in China and are linked to a shrinking proportion of women in the labor force.
Job ads posted by Alibaba Group Holding Ltd, Baidu Inc and Tencent Holdings Ltd were among those that deterred female applicants or objectified women, said Human Rights Watch in a report released on Monday.
In many of the adverts, prospective employers boasted of "beautiful girls" at their workplace as a selling point for new employees, while others included specific height, appearance and temperament requirements for women that were unrelated to the roles.
"We have investigated these incidents and are making immediate changes. We are sorry they occurred and we will take swift action to ensure they do not happen again," Tencent said in a statement.
Read full article following the link. Original source: Reuters; Cate Cadell
Scholarly insight on gender diversity.