Centre for Governance and Regulation, University of Bath, UK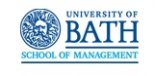 The Centre for Governance and Regulation (CGR) is a leading academic and policy research centre combining expertise across various social sciences (accounting, economics, finance, law, management, and politics).
Its objective is to build a platform to foster leading international research and develop communication for cross-disciplinary research on the design and implementation of governance and regulatory structures and forms of control that ensure that organisations are run effectively, efficiently, and lawfully.
The Centre's mission is to:
inform academic and current practitioner debates through the provision of leading international academic and policy research
develop close collaboration between academic and business worlds to maximise the potential for cross-fertilisation.
Director of the Center is Prof. Ania Zalewska.
To know more about the center please visit this page.